While we're not saying your New Year's Eve plans should be staying home in comfy pants and listening to all of the Simplecast team's favorite shows of this year… we're also not not saying that.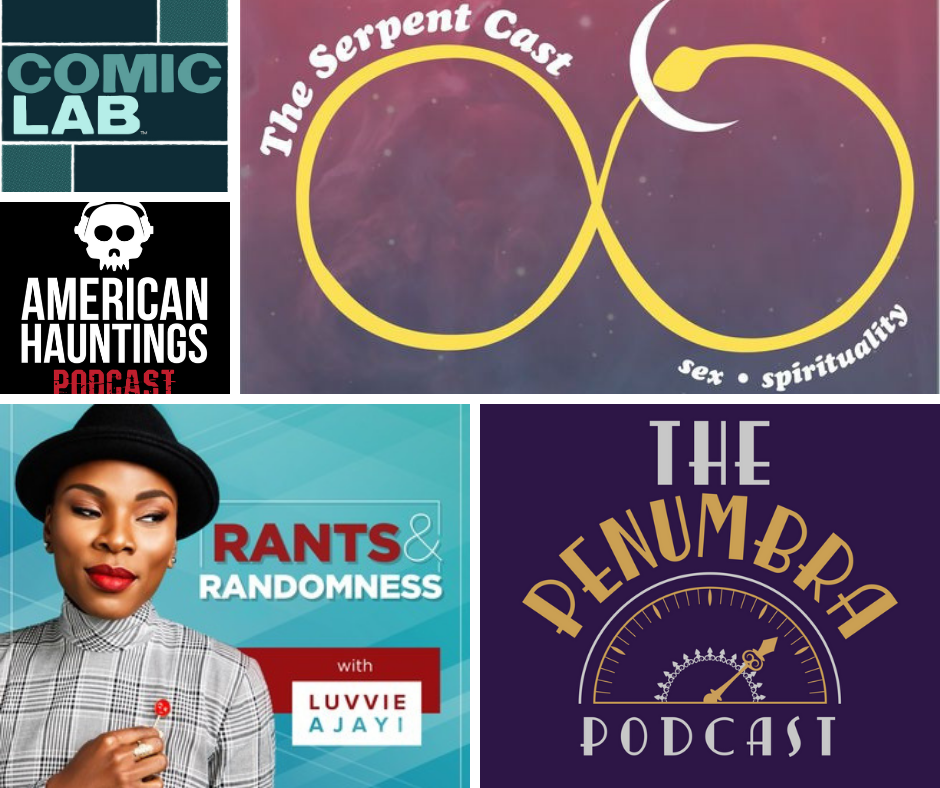 Sarah Frisk, senior front-end developer:
Comic Lab
Dave Kellett and Brad Guigar are delightful and hilarious cohosts with a wealth of knowledge on the business and art of making comics. In addition to the main show, where they answer listener questions and interview other comic artists, I've been really enjoying what they're doing on Patreon. Every week they release an addition "Pro Tips" episode which is just for their Patreon backers, that discusses additional helpful tips and action items that can help you get better at comics.
Hello from the Magic Tavern
I'm still working my way through the archives. It's about a man named Arnie who falls through a portal in Burger King into the magical land of Foon. There he interviews the various denizens of this world with the podcasting equipment he happened to bring along with him, along with his cohosts: Usidore the wizard, and Chunt the Changling (who is currently in the form of a badger). I love how it takes a lot of fantasy tropes, and upends them, and you're never quite sure which direction a given episode is going to take.
Caitlin Van Horn, marketing manager:
Spirits
Spirits sits right in the overlap of my interest in folklore and cocktails. It's also the show with a big enough back catalogue to get me through forty hours of weaving scarves for my family's Christmas gifts. I'm completely obsessed with episode 71, on the hierarchy of angels. (Timely!)
The Penumbra Podcast
Come for Juno Steel's moody guitar theme, stay for lots of great queer representation in this wide-ranging audio drama. I was fully hooked by episode 1.06: "The Coyote of the Painted Plains."
Serpent Cast
I love Annabel Gat's horoscopes for Broadly, so I was so pumped to see she had a podcast with writer Sophie Saint Thomas! The two of them talk about astrology, the occult, self-care, and a whole lot more. If there's an astrological event coming up, they're probably covering it with wit and compassion, and most likely have a great guest lined up, too!
Jeanine Wright, CLO, COO, actual lawyer:
I had fun discovering podcasts with my kids this year. In particular, I loved the tween fiction Becoming Mother Nature. We also loved the water detectives series by Brains On "Keeping water healthy, one clue at a time," and Little Stories for Tiny People's episode "A Hamster Named Bobo: An Adoption Story for Kids" which came at the perfect time for a conversation we were having at home about a friend from school that was adopted. We also love Story Pirates and Finn Caspian.
I loved The Longest Shortest Time episode "White Guilt and Other Crazy Sh*t" that was so timely and well done about talking to kids about race.
Loved, loved the First Monday's album on songs about the amendments.
Radiolab's three-part series called Gonads was absolutely brilliant.
I also really loved the three- part series on conversion therapy called Unerased. So good.
Espree Devora, director of customer experience
Charlie Rocket Show
Charlie Rocket aka "CEO Charlie" shares motivational stories about having an abundant mindset and how he lost 308 pounds to become one of Nike's leading athletes. In his former life he was a music business owner pulling in $15 million a year representing 2 Chainz and walked away from that life because he always dreamed of being an athlete.
Short Story Long
Founder/CEO of Young & Reckless and former MTV reality star Chris "Drama" Pfaff interviews inspiring successful business people and content creators leading a purposeful life who haven't always had an orthodox journey.
Addy Saucedo, customer support specialist
Rants & Randomness with Luvvie Ajayi
Join Luvvie Ajayi of AwesomelyLuvvie.com as she rants on all things society and pop culture. Her unique brand of loving judgement, hilarious shade and necessary truth-telling will keep you wanting more.
American Hauntings Podcast with Cody Beck & Troy Taylor
American Hauntings combines historical record, scientific method, observation, and imagination in order to teach you a little bit more about the paranormal activities of small-town America. Hosted by Cody Beck and Troy Taylor, Season 1 explored the hauntings of Alton, Illinois, while Season 2 tackles St. Louis, MO.
In The Thick
Journalists of color tell you what you're missing from the mainstream news. Co-hosted by award-winning journalists Maria Hinojosa and Julio Ricardo Varela, IN THE THICK has the conversations about race, identity and politics few people are discussing or want to discuss.
Chris Schaefer, DevOps engineer
Radio Lab
There's such a wide variety of topics that you never hear about the same thing twice. Plus, it's very well edited, with voiceovers from the people who experienced the topic firsthand
Amy Marco, product manager:
Cocaine & Rhinestones
This is a podcast I'm currently listening to. It's a really thorough and dramatic telling of the history of country music with so many juicy stories that it's hard to stop!
The RFK Tapes
For anyone who likes conspiracy theories this is an incredible podcast. Each episode provides more and more detail that makes you question what you learned in history class.
Ari Villegas, designer
Bodies
This podcast gives a feeling of kinship with other female bodies out there dealing with all the complexities of having one. We're not alone! I like the real stories and honest topics told that I rarely hear out in public but should definitely be talked about more.
Ryan Essmaker, head of design
Roommates
Bat for Lashes dream analysis, La Croix taste tests, and a whole bunch of bad roommate stories.
Aaron Dowd, podcaster success lead
The Daily
The Daily was my favorite podcast of 2018. Host Michael Barbaro and his team cover current events and important stories in 20 minute episodes released each weekday morning.
Everything about this podcast is high-quality — from the topics and the writing to the sound production — and the team still manages to produce an episode every single day. It's not an easy task but the Daily's team seems to be getting a little better with each new episode they release, and I enjoy their high-quality journalism each morning with my coffee.
Want more podcasting insights? Sign up for our newsletter here.