Podcast Help
Related articles:
Written by Addy Saucedo
Podcasting and audio content continues to grow in popularity because more people are consuming new media content on mobile smartphones and smart devices. Creating a podcast is affordable and easier than ever. Now is the perfect time to start a podcast for your hobby, personal brand or business. For easy to follow steps and expert support, you're in the right place. Previous experience? Not required. You'll discover absolutely everything you need to start your podcast in the following phases:
Creating (That's this article!)
✅Download this free podcast launch checklist to follow along!
Create
This phase is all about podcast production including cover artwork, music, gear, and recording and editing audio. By the end of all this phase, you'll be one step away from your podcast going live. Let the fun of creating begin!
Artwork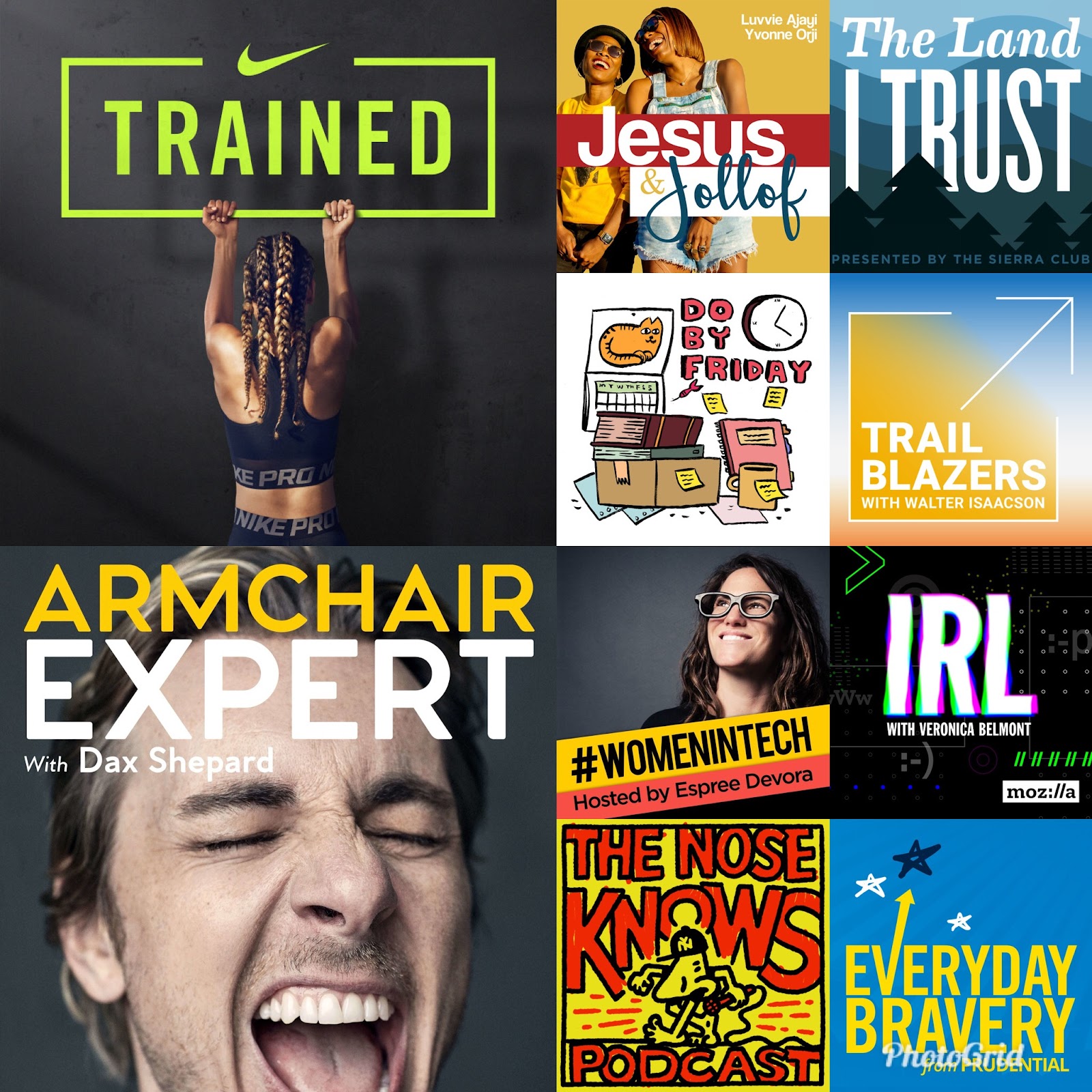 Audio is a non-visual medium, so your podcast is dependent on its artwork. The visual branding (design) on your podcast cover can trigger enough curiosity for a listener to click play. Artistic or not, creating the right artwork for your show is easy. Here is the first step from the team over at 99designs:
"One of the first things you'll want to decide is, whether you want to use a photo or a drawing for your podcast cover art. And just as important: what will it be a picture of?"
Head over to their guide for more details: How to design a podcast cover: The Ultimate Guide
Artwork specs to remember:
Keep it eye-catching and uncluttered
Podcast name is easy to read
Consistent with branding
Artwork dimensions: 1400 x 1400 to 3000 x 3000 pixels
Artwork file size: 512 KB or lower for a fast download experience (you can use this tool to reduce the file size).
Must be either JPG or PNG in the RGB color space.
Artwork Software & Apps:
Want more of a perspective on your artwork? You can use this tool to preview your podcast artwork on different podcast platforms: Artwork Check
Need A Designer?
Not comfortable with designing your own artwork? Hire a designer to create your podcast artwork so you can get to recording your first episode sooner! Here is a list of affordable and reputable resources:
Avoid Copyright Infringement
The artwork for your podcast must be original. If it's not original work, then it must be licensed for use from the creator/copyright owner. Avoid being held responsible for copyright infringement by not downloading images from the internet or using services that are less reputable. If you hired a designer, confirm the agreement gives you full rights to register the copyright for the artwork. Honor the hard work of others by respecting their copyrights.
💫Helpful articles and podcast episodes:
How To Create Amazing Podcast Cover Art
How To Make your Podcast Cover Art Using Canva
How To Make Amazing Podcast Artwork
Shrink That Artwork File Size With This Tool
Podcasting Legal Guide
Getting Permission: How to License & Clear Copyrighted Materials Online & Off
Music
Audio branding represents the character of a podcast through music and sound just as your podcast is visually represented by its artwork. Before you start browsing through your music collection for your favorite song, there are a couple important tips to consider.
"Before choosing any music, whether it's your intro/outro music or otherwise, it's important to know that you're not infringing on any copyrights or ignoring any licensing agreements to avoid any potential disputes." - Sonics Podcast
Do yourself a huge favor by reading this complete article - Music for Podcasts - Myths, Licences, and What You Need To Know
Where To Purchase Royalty Free Music
CreativeCommons.org
YouTube Audio Library
FreeSound.org
FreeStockMusic.com
MusicForMarkers
SampleSwap.org
AudioJungle.com
PremiumBeat.com
Jamendo.com
NeoSounds.com
Not sure what royalty free music means?
Read this helpful article: What Is Royalty Free Music?
Podcast Examples with Audio Branding
Armchair Expert with Dax Shepard
Rants and Randomness with Luvvie Ajayi
You Had Me At Black
Original Music
Can't find the sound you have in mind? You'd be surprised at how easy and affordable it is to hire a musician or audio branding expert who would love to create original music and sounds for your show. They get to add the work to their portfolio, and your podcast will sound unique. Check out the list below for recommendations.
MusicRadioCreative: a professional team known for making audio branding for podcasts.
Upwork: ready-for-hire independent musicians.
YouTube: search for the many musicians willing to create music for others.
Music Schools: ask for student recommendations.
Local music store: ask them for local musician recommendations or check the bulletin board.
💫Helpful articles and podcast episodes:
Audio Branding For Podcasters
Do you REALLY need audio/visual branding or promos for your podcast?
Podcasting Legal Guide
Can I Use a Song In My Podcast?
Equipment Hardware
Ready to be surprised at how much equipment you need to get your show started? Hint: not very much. Better yet, the equipment listed below is affordable and is sure to last you for many years of podcasting. As you review each recommendation, be sure to check out the videos listed to help with the decision making. Once you get your equipment, set it up and record a few sessions of anything that comes to mind. This exercise will help you get comfortable talking into a microphone, listening to your speech rhythm and hearing your voice when playing back the recordings.
Primary equipment suggestion for one podcast based off of one host:
1 microphone
1 stand
1 pair of earphones/headphones
1 set of necessary cables
1 digital recorder or computer
Thinking of having a co-host/s?
Each host should have their own kit, but only one person needs to have the computer or digital recorder to capture the episode. However, it's best practice to have an additional person record the episode as a backup, just in case. Choose your gear as needed. Here are some recommended podcasting kits:
💥Hot tip: Consider setting up legal agreements between you and your co-host(s) just in case there are any disputes or the relationship changes or one of your co-hosts wants to leave the show so there is no issues as to who owns the show, etc.
Basic Podcasting Kit:
Basic Podcasting Kit
Samson Q2U Microphone Review
Zoom H4N Pro videos:
Premium Podcasting Kit
Premium Podcasting Kit
Shure SM7B Microphone Review
Adobe Audition Videos:
Focusrite Scarlett 2i2 (2nd Gen) USB Audio Interface review video
Zoom H6 Complete tutorial for podcasting video
Triton Fethead review video
Mobile Podcasting Kit
Mobile Podcasting Kit
Q2U microphone review video
Zoom H6 Complete tutorial for podcasting video
Recording Your First Three Episodes
This is the step where all the planning comes together to record the first couple of episodes. You read that right: enough planning and setting up the gear. It's time to record! Be yourself and have some fun… the recording light is blinking. Start with the following episodes:
Episode 1 = Show Trailer
The show trailer is a very short episode with several essential elements and can be an evergreen asset for your podcast. The purpose of a trailer is to help the audience subscribe to your podcast and get excited of what's to come. Here are the elements that make for a great trailer (remembering the structure elements, you learned above):
An introduction to the host/s
Highlights of future topics
The purpose of the podcast
Who the podcast is for
Special guests to be featured (if relevant)
A call to action - subscribe, rate, and review.
How to stay connected via a website, social media or email list.
Now that your audience is excited about the future of the podcast, give them the first full episode. The idea here is to launch with a trailer and one full episode. These two episodes provide the audience with a complete experience of your podcast, and if they like it, chances of them sharing your podcast are high.
Episode 2 = The Premiere
Give your audience the goods! This episode premiere works best when covering the main topic of your podcast, the North Star (mentioned in step 1). Including the main topic will act as a fuel for the future episodes. Daniel J. Lewis of The Audacity to Podcast advises: "As much as possible, focus on the message you want to share and whom you want to share it with."
Read his helpful article for more tips on your first episode: Preparing For and Learning From Your First Podcast Episode
Episode 3
Launching your podcast (in the next phase) is going to be an exciting experience. It's normal to find yourself slightly distracted for about a week. With this in mind, try to get episode 3 recorded before your podcast goes live to the world.
Have a Remote Co-host or Special Guest For Your Podcast?
Having a remote co-host or recording a special guest for your podcast requires some organizing and an additional set of equipment. Here's a roundup of what will get the job done:
How to Setup a Guest Interview for Your Podcast
The Basics of Podcast Interviews
How Do I Get Guests to Come on My Show? How Do I Ask to Be on Someone Else's Show?
Recording equipment for remote co-host or special guest:
💫Helpful articles and videos:
How to get great sound from your microphone
How to Record and Edit Your Podcast Episode
How to Get Good Audio from Your Podcast Guests
Editing
Editing is your podcast's best unseen feature. If you ignore editing and passing up the chance to have a clear and consistent sound (both in audio levels and the flow of conversation), then kiss your show goodbye. But we don't want you to do that! In the resources below, you can choose your audio editor, learn how to use it and other helpful editing tips. Ready for you and your listeners to kiss your podcast hello?
Choose Your Audio Editor
The following is a list of digital audio workstations (DAWs) that help you record, edit, enhance, and export your podcast audio file:
Audacity
Platform: Apple OSX, Linux, Windows
Price: Free
Get the software: Audacity ®
How to video: How to Record and Edit a Podcast in Audacity
How to articles:
GarageBand
Price: Free with Apple computer or iPad
Platform: Apple OSX & Apple iOS
Get the software: GarageBand (check to see if it's already installed on your Apple computer)
How to video: 11 Tips for Podcasting with GarageBand
How to article: Starting a New Podcast Project in GarageBand
Adobe Audition
Platform: Apple OSX & Windows
Price: $8.39 - $20.99/month (for Adobe Audition only)
Get the software: Adobe Audition CC
How to videos:
How to articles:
Hindenburg
Price: $95 - $375
Platform: Apple OSX & Windows
Get the software: Hindenburg
How to video: Hindenburg Tutorials
How to articles:
The Right Amount of Editing
Editing does not mean to clean every single um, ah, and mistake. The goal is to provide a smooth listening experience for your audience. Over-editing can distract the listener from the content you're trying to share with them.
"If you set your standards too high at the start, you just won't sustain it. It'll suck the life out of your podcasting, and you simply won't have time to do it on a regular basis. On the other hand, stick to MEE™, take as little time as you can to get out a decent product, and you can keep doing it, week after week, growing your audience exponentially as you go." - Colin Gray
Follow Colin's MEE Podcasting Method for best editing practices.
💫Helpful articles and podcast episodes:
10 Quick Tips For Editing Podcast Audio
Do you REALLY need to edit your podcasts? What about authenticity?
Is Podcast Editing Really That Important?
Need an Editor?
Audio editing is not for everyone. Depending on what you're trying to accomplish with your audio, you can either take the time you need to learn how to edit or hire a professional, to focus your energies elsewhere. Here is a list of recommended podcast production companies:
Pro Podcast Solutions
Team Podcasts
EditAud.io
Sonics Podcasts
ID3 Tagging & Audio Polishing
"Tagging an MP3 is simply adding additional information to it, such as artwork, the episode title, host names, and more…If you didn't tag the MP3 file for each episode, your listener would be missing important information about you and your show." - Aaron Dowd
Click here for the complete guide: How to Tag a Podcast MP3 File
Common Tags For Your MP3 File:
Title = episode title
Artist = name of podcast host
Album = podcast name
Genre = podcast
Year = current year
Description = short episode description
Artwork = upload a 1400 x 1400 to 3000 x 3000 pixel JPG or PNG (file size: 512 KB or lower for a healthy RSS feed)
Episode Chapters?
Enhance the listening experience of your podcast by including episode chapters. Episode chapters function similar to the table of contents of an eBook. Select the chapter of your choice, and you will instantly see the chapter rather than digitally flipping through each page up until that chapter. Episode chapters are arranged hyperlinked timestamps synced to the audio file that allows the listener to jump to a topic within the episode. One caveat to episode chapters, a few podcast apps allow them. With regards to production workflow, it is something to consider. Click on the articles below to learn how to add episode chapters.
How to video: How to Add Chapters to Your Podcast Episode with Forecast
How to article: Forecast by Marco Arment — What It Is, How It Works, and Why Podcasters Should Take a Look
Tools for ID3 Tagging, Episode Chapters and Polishing Your Audio
How to Tag a Podcast mp3 File
Alitu
Auphonic
Forecast
Show Notes
At this point in the production of your podcast, the only thing convincing someone to listen is your artwork. A picture is worth a thousand words, but in a fast-attention grabbing world, providing a title and some notes to go with your episodes will help immensely. There are two important articles below: one explaining the importance of show notes, and the other about how to make them look good in podcast apps.
Step 1: Why Podcast Show Notes Are Important
Step 2: How to Make Show Notes Look Good in Podcast Apps
Examples of great show notes:
Overtime show notes
IRL show notes
Trailblazers show notes
Move Along
Take a moment to celebrate that you now have a podcast ready to launch! In podcasting, the more you publish, the better you get. Don't get caught up in trying to make every element of your podcast perfect. Part of the adventure is getting your show out to the world and growing your podcast with your audience. Get ready to share your podcast with others.
✅Reminder: Download this free podcast launch checklist to follow along!