Podcast Help
Product Features
Related articles:
#1 on most podcasters' wishlist is more listeners. Here's one of the easiest ways to get them.
"If you build it, they will come," might work in the movies, but it probably won't for your podcast. Podcast discovery is a tough hill to climb, and it's going to require some legwork if you want to get people to come listen to your show.
So then how do you grow your podcast audience? What is the best way to market a podcast?
There's a few ways of going about it, but the most effective is through cross-promotion. Where you run ads about your podcast on other people's podcasts. The more similar the podcast to yours the better, as the idea is to get in front of audiences that naturally enjoy your type of content. That way they're more likely to become fans of your show too.
And one of the easiest ways to cross-promote is with AudioGO.
What's AudioGO?
AudioGO is a self-serve digital advertising platform, like Facebook or Google Ads–but for top music, radio, and podcast streaming apps, like Pandora and iHeartRadio.
How does AudioGO work?
Unlike traditional cross-promotion, AudioGO takes the work out of finding and coordinating your promo swaps. Instead of endlessly emailing to try to get on other shows, AudioGO does all of the targeted advertising for you in just a few simple steps.
The first thing you'll need is an ad. You can either record a 30-second spot yourself or you can request to have one made by our in-app studio for all of $10 and in less than 24 hours. They even offer FREE AI voice creatives too.
The second thing you'll need to do is set your schedule and budget. The minimum amount to advertise on AudioGO is $250, which gets you around 12,500 ad plays on podcasts. That rate also includes: free display ad hosting, unlimited use of all their audience targeting features, and access to a top entertainment network that hosts tens and thousands of podcasts from 10+ different publishers, like SiriusXM's Stitcher Studios, NBC Universal, Barstool Sports, and lots more.
Third, and the most important step, is your targeting selections. While you can't target individual shows on AudioGO, you can create a predictive target audience, or "user persona" based on your choice of location, demographics, language, music or podcast genre, interests and user profiles.
So whether your target user persona is a political junkie, history buff, country music lover in New York, or a 20-something-year-old single in Seattle: you can basically reach whoever you want, wherever they are, and whatever they're listening to with AudioGO.
Lastly, the results. Once your ad is live, you'll have access to a dashboard that displays all of your campaign's key reporting metrics: spend, clicks, impressions (ad plays), unique listeners, and more. You'll have a 360 view of how your ad is performing in real time.
Why AudioGO?
For starters, podcast advertising is extremely effective on its own merits: 93% of podcast listeners don't mind hearing ads, and 59% say they're likely to pay attention! Furthermore, 93% of podcast listeners have been motivated by an ad to take action- ranging from checking out an advertiser's website, to actually placing an order or signing up for a service. But here's another reason to consider podcast ads for your cross-promotions: the average podcast listener tunes in to about 3 to 5 different shows at any given time. So not only do podcast ads work really well, most people hearing them are also in the mood to listen to more podcasts. Like yours.
Then there's reach. When it comes to developing your podcast audience, the math for that is pretty simple. The more that people become aware of your show, the more that fans are sure to follow. One of the things that AudioGO does to make sure you reach as many listeners as possible is through aggregation. And we're proud to have brought together an audio entertainment network that hosts almost half (43%) of the entire US streaming population. By bringing together some of the biggest players in podcasting, music, and radio all onto one ad platform, we now host almost half (43%) of the entire US streaming population. Music to any marketer's ears.
The other thing that separates AudioGO from other audio platforms is full-automation. Because unlike most traditional ways of buying audio or podcast ads, AudioGO takes the hassle out of, well, dealing with people. For context, if you want to buy ads directly on most podcast networks, it typically begins with a salesman there to take your order. And in every step along the way, you'll be assisted with your media planning, placement, and purchasing. It can take a while.
But only in the past few years has a 'smarter' way to advertise emerge, where that salesman gets replaced for intelligent algorithms that automatically fulfill those functions in a matter of minutes. No differently than how AudioGO works. So instead of the back-and-forth of having to speak to someone on every particular about your campaign - our audio adtech empowers users to be able complete all of those tasks themselves in just a few clicks.
This new way of digital audio advertising - called programmatic advertising - is the future. It's hyper-targeted, it's data-backed, it's faster, it's easier. And if you ask advertisers who've used AudioGO before, they'll even tell you that it's a whole lot better.
How to get started with AudioGO
To take advantage of AudioGO for your podcast, simply visit the Marketing Settings tab in your Simplecast dashboard. And voila, there waiting for you is a link that'll take you to their website.
For more information about their podcast advertising offering, you can also visit: https://www.audiogo.com/podcasts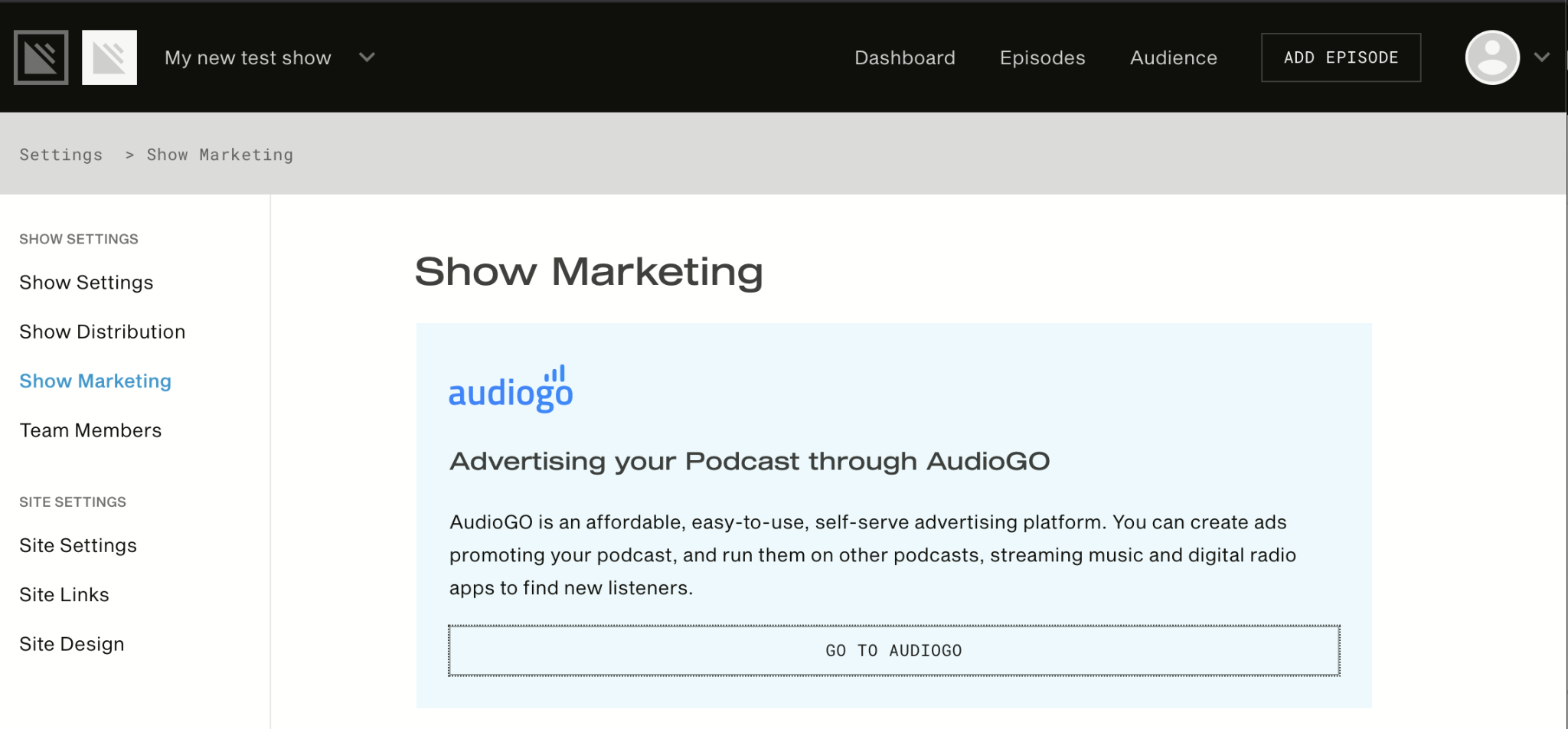 About AudioGO
Our mission is to make the power of Digital Audio accessible and simple for everyone to use, not just large ad buyers. We believe entrepreneurs, creators, brick and mortars, e-commerce retailers, and any kind of small business or agency should have the chance to get their message heard.
We also believe this process should be easy. So we eliminated the salesperson and the studio: and built a self-serve platform that allows anyone to create, buy, and run digital audio ads on leading music, radio, and podcast streaming apps.
For more information about AudioGO, please visit audiogo.com
AudioGO is brought to you by AdsWizz, a wholly owned subsidiary of SiriusXM.