Entertainment
Related articles:
During Yom Kippur last year, I tried to explain to my coworkers on Slack that podcasting was becoming a romcom job. Like architects, bakers, or journalists before, podcasting is the new kind of creative job that Hollywood writers think is fancy-free and cool. Also, no one really knows what it is, but there's an easy way to visually signal that the job is happening (using a microphone, like rolling out one of those floorplans from a tube or waking up at 5 to bake some bread).
I thought this was a great idea. Only one person responded, sending a gif of Eli Manning mouthing, "What the fuck." I probably shouldn't have gone online since I hadn't eaten or drank in 20 hours, but the point still stands! In fact, there are a bunch of representations of podcasting popping all over TV and movies.
Let's rate the portrayals on a scale of 1-10: up to 4 points for mic technique and set up, up to 4 points on how it captures the creation process, and 2 bonus points for how interested I am in listening to the podcast they're making
Alex Inc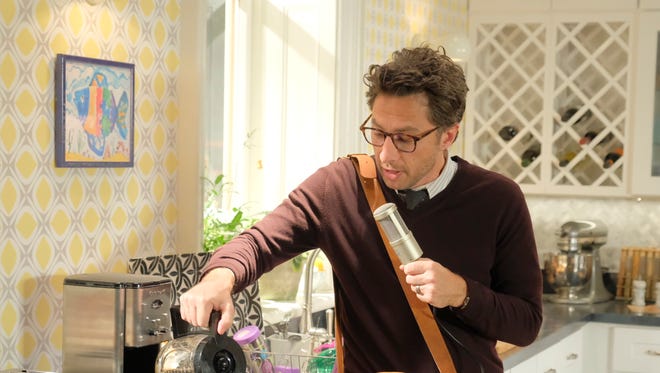 I don't want to kick a show while it's down and canceled, but c'mon. If you're going to base a show off of a podcast about making a podcast company, at least get this stuff right! You can't just walk around your house and record all the time, it'll sound like garbage. The most realistic thing about Alex Inc is that Zach Braff's character from Garden State would grow up and start a podcasting company, which is the headcanon I'm keeping to make this tolerable.
1 out of 4 mics for this terrible, awful, no good very bad mic placement
1 out of 4 creator points because selling the IP of your life story and then making it a twee network comedy is a STRONG choice
0 bonus points because I listened to the first season of Startup the first time, not again
2/10

The Sex and The City reboot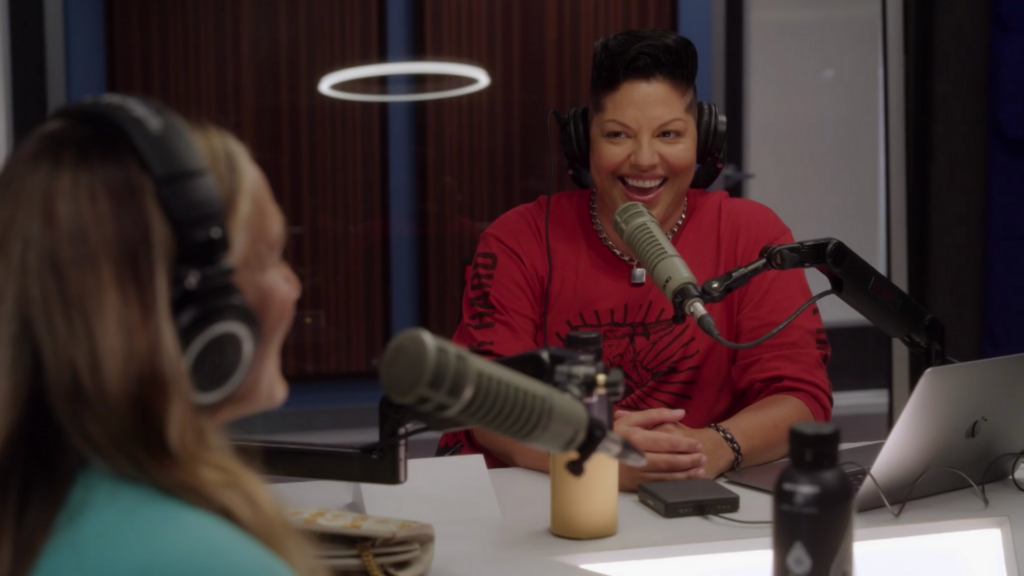 Carrie Bradshaw starting a podcast instead of writing her sex column anymore makes so much sense. In this universe, I can imagine Call Her Daddy and Call Your Girlfriend both shouting her out as an inspiration for their audio. Although Carrie strikes me as the kind of host who has to interrupt a guest to tell a story about their own life, I'm extremely here for Sara Rameriz as Che Diaz, the nonbinary, queer stand-up comedian who's Carrie's co-host. I envision a lot of 4 out of 5 Apple Podcast reviews saying, "I'm here for Che, I skip when Carrie's talking!"
3 out of 4 mics because the studio looks good! Who invested in this studio time?
2.5 out of 4 creator points for the famous columnist to celebrity podcast pipeline
1 bonus point because I wrote that Apple Podcasts review
7.5/10

Godzilla Vs. Kong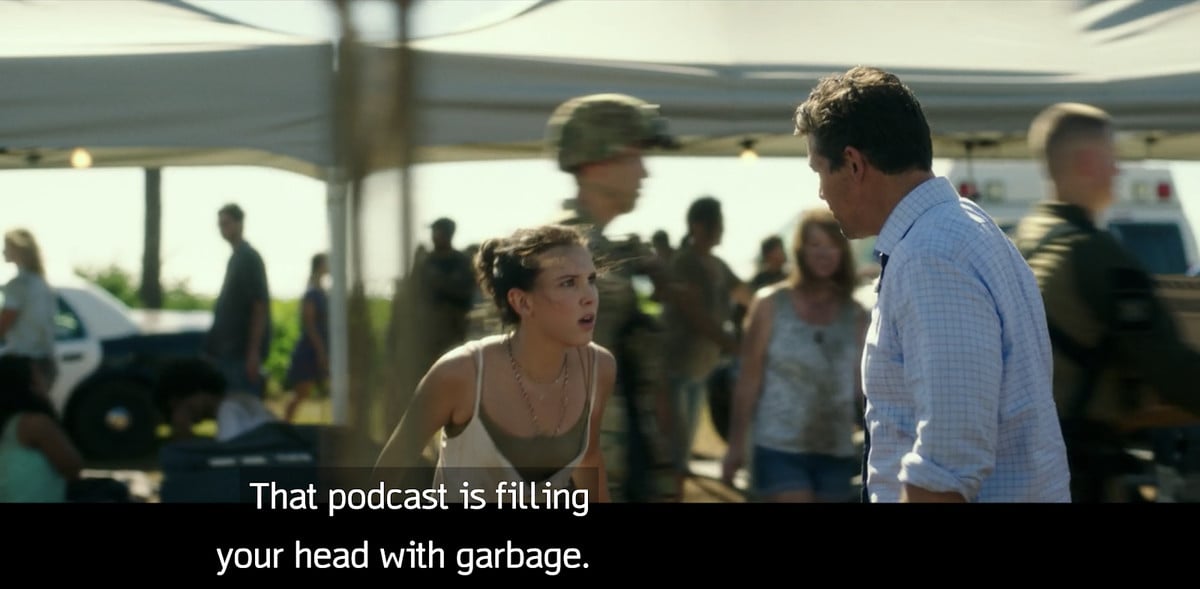 Bernie, the conspiracy theorist played by Brian Tyree Henry in the clash of the Big Monsters, is living the indie podcaster dream. He has his day job but still pursues his passion for Godzilla and whatever weird shit is going down Apex Cybernetics. He's hit episode 246, so bravo. And he has a sizable audience who follows his every word. Good job, Bernie! As long as you don't go Joe Rogan and start promoting weird Godzilla pills, we're all clear. Open a Patreon so we can support you.
2 mics out of 4 because I think we don't see him use a microphone but you wouldn't believe how hard it is to Google "Godzilla Vs. Kong Podcast"
4 out of 4 creator points for being the indie podcaster you want to see in the world
2 points because this podcast had secret science information!
8/10

Only Murders in the Building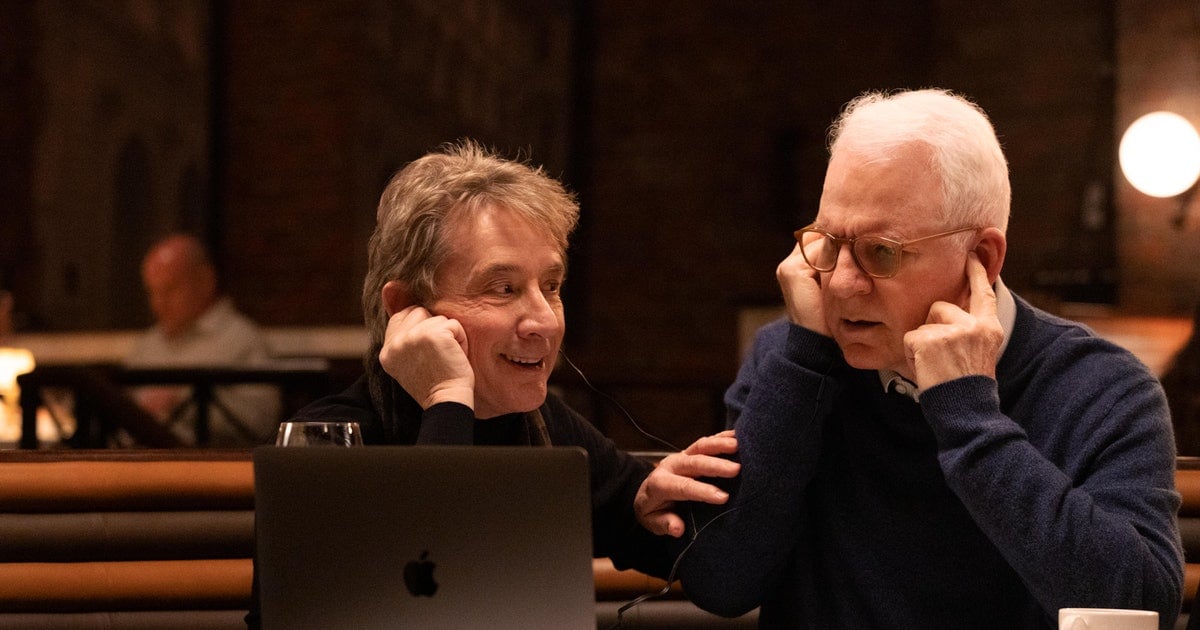 A send-up of true crime podcasts better know their DAW from their raw…footage, and they sure do. It turns out that Steve Martin is a podcasting nerd! Co-creator John Hoffman told Rolling Stone that when Martin is "in California…he rides his bike a lot, and when he rides his bike, he always listens to murder podcasts."
Bike rides aside, there seems to be a lot of knowledge here, from understanding if it is legal in New York State to recording conversations with one-party consent, to monetizing a tragedy, to all of Oliver's podcasting knowledge. Add in Tina Fey as ersatz Sarah Koenig, and this is case closed.
4 mics out of 4 for recording on a phone and a boom mic, Oliver's theme song composition, and bringing the editing laptop out into public
4 out of 4 creator points for knowing the podcasting process backward and forwards
2 points because it's still Steve Martin and Martin Short! I will listen!
10/10

Halloween (2018)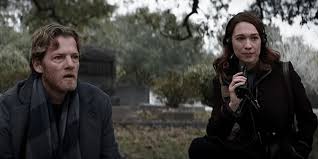 A horror job is the flipside of the coin of a rom-com job, and boy, are these folks just jammed in here as a plot device. Aaron Korey and Dana Haines are a British couple who are "award-winning investigative" journalists who "reexamine murders from an unbiased lens." Are they trying to say that notorious killer Michael Myers is innocent here? I don't understand what their take is or where their journalistic integrity is, considering that they bribe Laurie Strode with $3,000 and tell her she should confront Michael Myers for viral content. But this is the worst mic technique since Alex Inc. They record voiceover in the loudest places in the world: a windy cemetery, a moving car, and a horror movie asylum! Thank god they got murdered before someone turned it into a streaming service mini-series.
0 mics out of 4 because all I hear is spooky cemetery wind!
0 out of 4 creator points for 0 journalistic scruples
1 point because someone found their tapes posthumously, published them, and it got one million downloads.
1/10
Eric Silver is a writer, audio producer, game designer and teacher based in Brooklyn, NY. He is the Dungeon Master for Join the Party, Head of Creative at Multitude, and produces a bunch of other podcasts. He likes the fall, sandwiches, and being five minutes early.